For The Music Only – Williamsboy
By David Spira Leave a Comment
Categories: Entertainment and Music
Tags: Concert Review, For The Music Only, Williamsboy

For The Music Only is a non-profit music venue in New Hope, Pennsylvania. The stage is built in a private home. It's cozy, the acoustics incredible, and they only bring in talented bands with a whole lot of soul.
This past Sunday they had a show headlined by Alejandro Escovedo, and he was great… But more on him tomorrow.
The opening act for Escovedo was Matt Williams, AKA Williamsboy. He played a three song acoustic opening set unaccompanied, and it was superb.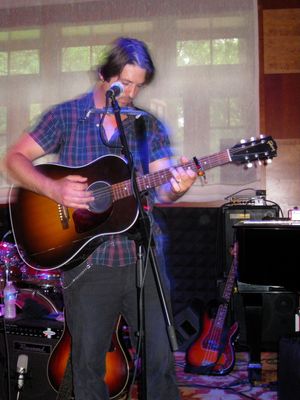 I have never written a dedicated post to an opening act, let alone one that played three songs, but the guy is that good. He sounds like Bruce Springsteen with a flair that is distinctly his own; a good Jersey rocker.
Williamsboy has four songs available for free download on his website, with a full-length album in the works. The recordings are damn good, and I can't stop listening to them. I'm particularly fond of Analog & Roads.
Disclosure – I should mention that For The Music Only is run by my girlfriend's aunt & uncle. Additionally, Williamsboy is produced by her uncle. None of that changes that the venue is awesome, and Williamsboy rocks.
For The Music Only
Williamsboy
"Matt's rythm is engaging and his lyrics come from an honest start, brought to life through the perspective of a man caught in the middle of looking back down a well worn path while at the same time almost vicariously carrying with him lessons for his future."


-Spencer Richardson ·CEO | Co-Founder, FanBridge

By: John Pfieffer- The Aquarian Online.
Roads
Billy Williams is the gentleman songwriter of the Garden State. Humble and
soft-spoken, Williams tells you right off the bat that life was no picnic growing up in a poor
neighborhood where people treated you harshly and were swift to prejudice. He learned
early to find solace in music through the oldest of ways. He found a beat up old guitar and
learned to play it and he hasn't stopped since those early days. If that sounds like a familiar
song lyric, it probably is. Williams is as traditional as baseball and apple pie but
don't let that fool you, his styles decidedly dark with rustic shades of Americana, folk,
and'70s country that only he's capable of creating.
Roads is a colorful ride through those variations and styles, recalling yesterday's
great road dogs and all seen through seen the eyes (and voice) of Williams. He calls the
theme for this record "songs for the highway," a human element missing in the music
of today and he's probably right as he goes about fixing that particular hole in the roof.
"Analog" catches me first on the disc—solo acoustic and harmonica, Williams' low voice,
sparse phrasing and stark pictorial storytelling set him light years apart from The
Springsteen and Dylan wannabe's, instead shifting him closer to the Waylon Jennings crew,
which is alright in my book. "Last Thing I Seen" is a gritty romp through guitar heaven
with Eric Lichter laying down deep and dark reverb beds, dual lead lines, harmonies and
classy chord structures throughout. Williams belts out his gruff and raspy vocals with
the road weary perfection of a certain Silver Bullet band member.
"Last Thing I Seen" is old time religion at its finest. I can picture the dust in the streets
as onlookers stare as he sings about the tightening noose around his neck. Regret,
redemption and salvation play hard here. The vocal harmonies here are eerie in
their genuine feel. Tin Pan Alley banjos, violins and ragged strum guitars half step this
song right up to the gallows platform. This song alone should be turning heads in this
dopey industry.
"Stalking Mable" is a cool rambling Allman Brothers meets- Levon Helm smoker,
bouncing with funky bass and drum lines alongside greasy hot slide work and dusty dirty
vocals. Williams' great lines, "Mable I'm sorry that I took those pictures of your
backside/I did not mean to put them on the Internet for a one time fee "and "Mable darling
cant you see, this restraining order's killing me/how can I be close to you if I can't go within
10 feet" make the song hilarious and raunchy. Other standouts are "Desperate Moon" with its
piano arpeggio runs and Warren Zevon- vibed melodies. Stark instrumentation holds
off until the chorus and lush backing vocals. Roads is the great unsung disc of the year
as far as I'm concerned and if you want to know the reason original music is still great 
The Williamsboy is a singer-songwriter, whose live performances and gritty original Rock-N-Roll are reminiscent of artists such as Wilco, Bob Dylan, and Bruce Springsteen. Equally at home playing ramshackle folk, bar-room-blues, modern rock and alt-country; The Williamsboy's sound is timeless.
He plays guitar like Steve Earle, harmonica like Sonny Boy Williamson, and has a voice compared to Tom Waits. Music lives in his heart and seeps from his pores. The sincerity in his voice and the truth in his music prove it. The Williamsboy speaks his own language.
Paul Mansfield -(a fan from Chicago)
The Villanovan
Williamsboy offers musical simplicity
Singer-songwriter Matthew (Billy) Williams, along with percussionist Charles Kline, set a relaxing vibe at Milkboy Coffee last Friday.-Matilda Swartz: Issue date: 4/23/09 Section: Entertainment

Performances at Milkboy Coffee are usually hit or miss. There are those performers who seem to be trying too hard and others are not trying enough. Certain performers have the singing chops, but their lyrics may be recycled. Sometimes the strumming is prime, but the voice seemingly strains to creep up into upper octaves.
Occasionally, though, the bed is just big enough and the bowl of porridge is just the right temperature. Friday night was one of those times.
The credit goes to Matthew Williams, a Maine-native quadruple-threat: singer, songwriter, guitar player and harmonicist. Known to play sometimes solo (under the alias Williamsboy) and other times supported by the Williamsboy Band, Friday night he found a happy medium with himself and percussionist Charles Kline at his right.
Looking all forms of a Main Line Dylan or a more youthful Springsteen with the harmonica lying contently in a neck brace, Williams was there for the sole purpose of playing.
The 30-year-old Williams has been performing professionally for over 1 year, showcasing in easily recognizable venues such as the Trocadero, World Café Live and the House of Blues.
With gigs like that under his guitar strap, it is nice to know that he still makes time for free-admission shows in little ol' suburbs of Philadelphia. Unlike other Milkboy performers before him who, either due to a degree of stage neurosis or overconfident charisma, go on five minute rants about life and various audience members between songs, Williams limited his speaking to the announcement of song titles. The night was filled mostly with songs off of his first album "Roads," released last spring on Dirt Floor Records.

Let it be known that the song titles, being no more than two words, never gave away too much. The songs told the story you wanted to hear. Sitting in Milkboy's always-comfortable velvet furniture, it was easy to lose yourself in Williams' gritty vocals and lines from handwritten ballads like "Troubles," "Roads," "Hold On" and "Stay."
His words and his phrasing are minimalistic; Williams is privy to the fact that sometimes all it takes to trigger a crowd response is a chorus hook consisting of "Stay, stay a little bit longer" and a nice riff to back it up.
A hat must go off to the accompanying Kline, who alternated playing various little percussion instruments and banging on a box drum. Williams is a simple guy who writes simple songs and simply wants to play his guitar.
In not only a music world, but a real world full of hang-ups and exaggerated woes, it is never short of refreshing when a voice comes along who can say the 30 words you were thinking in only five.

Chorus and Verse Blog
Posted: March 11, 2010 02:52 pm (-06:00)


Danny Coleman

Musician/Radio Show Host
The Inspirational And Reflective Williamsboy
Matthew "Billy" Williams, a/k/a the WILLIAMSBOY, has come from humble beginnings to become an extremely accomplished singer/songwriter musician.
When he was just three years old, his father left the family, abandoning his mother and his siblings. He isn't shy about admitting that the family had to go on "welfare" and that they bounced around from place to place.
The name the WILLIAMSBOY is a direct reflection of his youth. It seems that no matter where his family moved, the stigma of being on public assistance followed them. He said, "Whenever something was wrong, missing, or troubled in the neighborhood, I always heard "must be that Williamsboy." So I just adopted the name as my stage name... sort of a tribute to my struggles."
The WILLIAMSBOY uses his own life's struggles for his songwriting inspiration. His first CD, 2008 release "Roads," is a great combination of rockin' songs that are written from the heart.
On his website, www.williamsboy.com, there is a video of the title track, "Roads." This five-minute clip featuring him and his son, intertwined with scenes from his life, sums up just what the WILLIAMSBOY is all about.
In this humble writer's opinion, WILLIAMSBOY pens his lyrics in a style very similar to New Jersey icon Bruce Springsteen. When one listens to the lyrical content depicting his struggles, it's not an understatement to say that one may draw a mental picture in one's mind of sitting right there as if he was telling you a story in a bar over a pint of beer.
Currently, the WILLIAMSBOY is in the studio working on his second CD, which is titled "Analog."Backing him in on recent live performances are his good friends from Tabernacle, NJ, Thus We Fall
(www.myspace.com/thuswefall).
"Analog" will feature several new versions of songs from his "Roads" CD, as well as many new tunes. This new release, he tells us, is going to render his first CD almost obsolete. However, it is still available on www.williamsboy.com until all copies are gone. Personally, I feel that "Roads" is a fantastic collection of acoustic-driven songs that are inspirational as well as reflective. The WILLIAMSBOY's writing can, at times, cause one to reflect on their own lives and experiences.
Look for the WILLIAMSBOY this month at the
Cape May Music Conference
, or you may go to his website or www.myspace.com/williamsboy77 to see a complete list of his upcoming shows.  
"" His songs, are songs about real life, real people, real experiences. Things that everybody goes through. Falling in and out of love, he writes about things that are true to his life, they are also true to everybody's life." – "
- Chloe Rollins , IndieRock (Dec 18, 2009)

"It is the sort of American music that people rarely make or listen to anymore; instead favoring the manufactured falseness of pop's princes and princesses. However, there is nothing false in Williams' songs."
- j.b, -Jukebox live

"The Williamsboy is amazing. Plain & Simple. The first time I listened to "Roads" was on a recent drive. My mouth hung open in speechlessness the entire length of the album."
- Kevin Christine, CD Baby